HubSpot Partner
With so many HubSpot Partners to choose from, here's why people choose us.
We thrive in complex projects.
Can't make sense of your tech stack? Have a complicated product or a very specific service? Bring it on.
We're not here for a quick fix.
We focus on building solid processes, not good-looking products. Digital transformations are about helping people, so we focus on getting everyone on board.
We transfer our knowledge to your team.
We make our expertise part of your organization. We're here to empower you, not to do the work for you.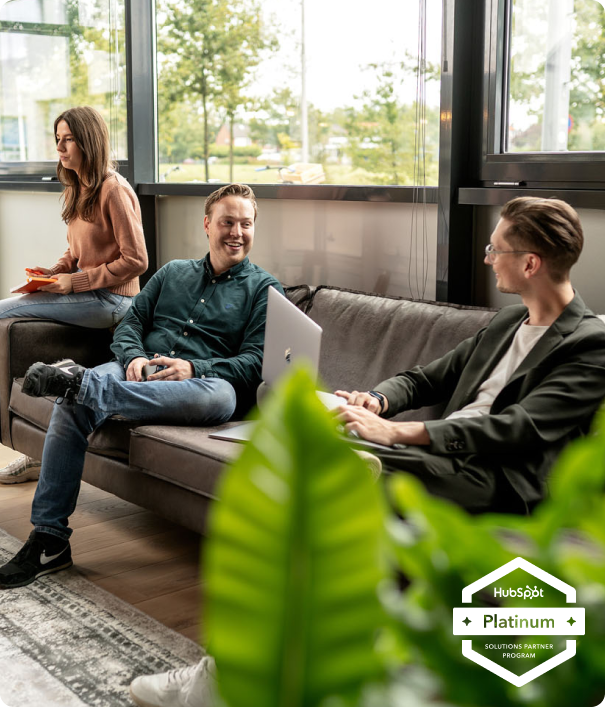 Your company is the right brain, ours the left. Together we thrive.
We're a trusted partner for companies around the globe who want to offer their clients the full-package deal. We make sure that you can sell solutions that are 100% complete.
Here's what we do for you
We start with an assessment of the current state of your business, and the goals you want to reach in the future. We find missing links, gaps and identify opportunities. Then we'll help you with:
Onboarding - we'll set you up for success with our tailored onboarding program. We'll cover everything you need to know to get hands-on with HubSpot.



Integrations - keep working with the tools you love, but connect them to HubSpot for a 360 view of your data. We combine your favorite apps and ensure smooth and automatic transitions of the data they collect, so your decision-making can happen in HubSpot.

Migrations: without missing a beat, we make sure the right data gets transferred to the right place. We don't just put the data into HubSpot, we make sure you can get valuable insights from it - without any downtime.



Training - we won't leave until your team is self-sufficient and fluent in HubSpot. Our trainings are focused on getting the most value from the tools through automation and using data for better business decisions.
We lay out the roadmap, but you'll have to do the legwork. That's how we assure sustainable results that strengthen your business for the future.
Our HubSpot Services
Get the most out of HubSpot with our tailored services
We're Platinum Partners for a reason: we know HubSpot inside and out and are able to perfectly combine it with your strengths and needs.
Our HubSpot services are all about getting you the long-lasting results you want, by using the resources you have the right way. And we're good at that.
We're specialists in HubSpot, but even better at helping you use it to its full extent. All of that expertise comes with an entrepreneurial angle, because we mean business.
We don't try to squeeze you into a one-size-fits-all onboarding traject. Depending on your goals, resources and challenges, we develop a well-structured result-oriented onboarding plan.
What you can expect
We empower you with powerful tools

Our services are all about reaching that full potential, that sweet spot in which you can see results that are worth celebrating.

We turn your team into experts

Our partners can always count on our expertise, but we make sure your team becomes self-reliant through a solid onboarding process and targeted training.

Our services are focused on value, not output

We want you to make the most out of your HubSpot tools, as quickly as possible. Our services are built to help you hit the ground running, fast.